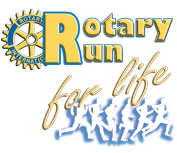 Raising funds for suicide prevention and awareness - since 2004
Sunday • September 8 • 2013
Rotary Run for Life is an annual 5K run/walk, 10K run and ½ marathon
held in Stony Plain, Alberta every September

Rotary Run for Life is an annual run/walk held
to raise funds for suicide awareness and prevention
It is also an opportunity for friends and family to remember those that have been lost to suicide
WELCOME
MEMBERS NEEDED for the 2014 RACE COMMITTEE!!
Get involved and make a difference in your community … share your ideas …. make new friends!!!  We welcome new committee members with any level of experience.   We have several positions available with various time commitments.  Contact us at [email protected] for more information. 
The organizing committee of the Rotary Run for Life would like to extend a huge THANK YOU to all the participants, sponsors, volunteers, partner organizations, and entertainers that made the 2013 race a tremendous success. Official race results are posted on our RESULTS page.
RACE PICTURES ARE AVAILABLE  @ MARATHON-PHOTOS.COM
OUR  MISSION STATEMENT:
As leaders in humanitarian service, the Rotary Club of Stony Plain,the Rotary Club of Spruce Grove and the Rotary Club of Parkland After Dark, in partnership with Coordinated Suicide Prevention Program [a program of the Simon Poultney Foundation] promotes suicide prevention in Parkland County, the Town of Stony Plain and the City of Spruce Grove through awareness and educational programs.
Our Sponsors